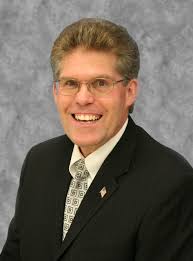 Dr. David Peterson, Senior Pastor
Dr. Peterson was born in Clearwater, Florida in 1953. He has lived in Land O' Lakes since 1968.
Dr. Peterson was called to be the pastor of First Baptist Church in 1980. He received his Bachelor's and Master's degrees in Bible from Florida Bible College and earned his Doctorate degree in Pastoral Theology from Bob Jones University. He and his wife, Denise, have two adult children, Sarah Beth and Stephen. They also have three grandsons, Logan, Connor, and Jensen, and two granddaughters, Novah and Ember.
Known for his clear Bible teaching, Dr. Peterson has the God-given ability to explain difficult passages from Scripture in a way anyone can understand. He takes a strong stand on the purity and clarity of the Gospel of Jesus Christ. Visit our page on this site, 'Eternal Life', to know more. His entire ministry is built upon uncompromised preaching and teaching of God's Word.
For a sample sermon of Pastor Peterson, click here:
Click
here for more about our Pastoral Staff.